Earlier this month I received a package that I wasn't expecting.  Inside was a letter from Highlights magazine and an award for illustrator of the month for the April issue!   There is so much great artwork in each issue that I was both honored and surprised to have gotten the award.  The artwork was for the poem, "For Rent: One Moon Snail Shell".  So pick up the April issue and check it out!
Here's my scan of the artwork.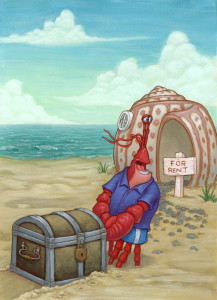 The original, printed form, and Pewter Plate.